Media Releases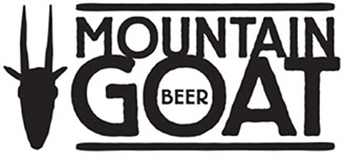 Details
In September we were delighted to announce that we had signed a sale purchase agreement to acquire a 100% stake in Mountain Goat Brewery, a Melbourne-based craft brewer.
Mountain Goat has a well-established reputation in the Australian craft beer segment. With a brewery located in Richmond, Victoria, Mountain Goat was founded in 1997 by Cam Hines and Dave Bonighton, two innovative and passionate members of the craft beer community who have helped to establish the scene in Melbourne.
Mountain Goat's range of beers includes Steam Ale, Hightail Ale, Summer Ale, Fancy Pants, Pale Ale, and Rare Breeds. The Richmond site also includes a bar, which is open to the public and used as a function centre.
Scott Hadley, Chief Commercial Officer Alcohol (ANZ) commented, "Mountain Goat has become well established among the craft beer movement and offers a variety of beers. We share their passion for creating, marketing and selling distinctive, great tasting, quality beers, and this was a determining factor in our purchase decision. We warmly welcome them to the Asahi Beverages family. Mountain Goat has an excellent reputation and a strong track record. We plan to preserve the uniqueness of the Mountain Goat business and will continue to operate it as a standalone business."
Matt Grix, newly appointed General Manager for Mountain Goat, said, "The acquisition of Mountain Goat complements our beer portfolio which includes premium brand, Asahi Super Dry as well as craft beer brand, Cricketers Arms. Our intention is to leverage the strengths of the APB business to help grow the craft brand across Australia. We already have a relationship with Mountain Goat, producing a portion of their beer as a co-packer at Laverton and we know their product and business well. The Mountain Goat brewers will continue to brew beer in Richmond, and the bar will remain open Wednesday and Friday nights."
This is a very exciting time for our business, as we add another great brand and a great business into the Asahi Beverages family. If you would like to find out more about the story behind the business, the brands, and its founders, go to www.goatbeer.com.au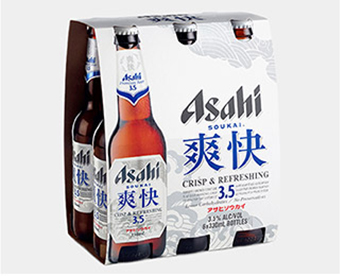 Details
Asahi Premium Beverages has announced the launch of its latest product, Asahi Soukai (pronounced Souk-eye), a 3.5% ABV lager catering to consumers who enjoy the refreshment of premium beer and value the benefits of a lighter and lower carbohydrate alcohol.
Set to become the new beer of choice for mid-strength consumers, Asahi Soukai is available in the on and off premise from the start of October in 330ml bottles and will add to Asahi Premium Beverages' enviable repertoire of quality beverages.
Consumer insight and preference was at the forefront of developing the new Asahi Soukai with male and female 20 to 40 year old premium international and mid-strength beer drinkers the target market. Research has shown that Australians are genuinely and increasingly concerned about their health, fitness and physique. As a result, consumers are looking for options that offer control in alcohol and carbohydrate intake and allow a sharp and sophisticated drinking experience – introducing Asahi Soukai.
Michael Vousden, Senior Category Manager – Beer (AUS) shared his confidence in the new product. "Asahi Super Dry is currently the fifth largest international beer by volume (latest quarter, Aztec data to end July 2015) in the international beer category, so we expect strong results from our newest product, Asahi Soukai. As a business we are excited about the response from consumers around the world who have been asking for a lower alcohol, lower carbohydrate and great tasting beer option.
"Asahi Soukai is the finest choice for our consumers who are educated about health and wants to remain professional when conducting business in social environments. We are proud of the Asahi Soukai product and believe in its positioning as it launches into the local market," Vousden stated.
Asahi 'Soukai' meaning 'refreshing' in Japanese will deliver a clean, smooth taste that embodies the refined, Japanese way of life whilst retaining that unmistakably refreshing, crisp Asahi Super Dry taste. Born of the Asahi Super Dry beer taste profile. Asahi Soukai is a premium, lower carbohydrate (compared to the leading international premium full strength beer), easy-to-drink, non-filling, sociable and expertly-brewed lager that uses high quality Japanese brewing standards and techniques. The product is brewed in Australia.