Environment
At Asahi Beverages, we acknowledge the strong link between the materials used to manufacture our products and the environment from which they are sourced. We recognise that our business has an impact on the environment throughout the lifecycle of our products and that we can influence our suppliers, customers and other stakeholders in the value chain to improve our collective environmental performance.
Environmental management
Our Environment Policy sets out our company commitments and strategies. We have plans to improve environmental performance in each of the areas identified in our policy, and we have also developed environmental key performance indicators and set annual targets to help drive continuous improvement. Our programs are audited by internal and external auditors to ensure we comply with legal requirements and company procedures and standards.
We have implemented a formal environmental management system to manage our impacts on the environment, and have committed to achieving ISO14001 certification across our business. So far, six of our manufacturing sites have achieved certification.
Environmental certification status at our manufacturing sites
Huntingwood Plant, ISO14001, December 2005
Ipswich Plant, ISO14001, January 2006
Tullamarine Plant, ISO14001, December 2009
Wodonga Plant, ISO14001, June 2011
Goodna Plant, ISO14001, November 2017
Welshpool Plant, ISO14001, December 2017
Reducing greenhouse gas emissions
We actively work to reduce our greenhouse gas emissions through a range of energy-efficiency programs and by selecting lower-carbon energy sources. We set annual targets to reduce emissions per litre of beverage that we produce, and monitor performance on a monthly basis.
ENERGY-EFFICIENT LIGHTING: Our manufacturing sites are implementing more efficient and sustainable lighting solutions, each running with a slightly different approach to suit site requirements and budgets.
At our Huntingwood site in NSW, all traditional lights in the production area have been replaced with LED lights, reducing energy use by 40% and providing a better, more consistent light quality for workers. Maintenance costs for replacing lights have also been reduced due to the longer life of LEDs.
At Tullamarine in Victoria, traditional lights in the production facility are being replaced with LEDs as part of a maintenance upgrade program.
At Welshpool in WA, a smart-control system has been installed allowing the lights to dim or switch off on bright days.
PRODUCTION EQUIPMENT: Our production facilities are the highest source of direct-energy consumption in our business. We regularly review our operations and implement improvements. For example:
Filling machines have been upgraded to ambient fillers which reduces cooling and heating loads by operating close to ambient rather than low temperatures.
Boiler efficiency has been improved through installation of burner controls, oxygen monitoring, air/fuel ratio control and variable speed drives on air fans and feed water pumps.
Refrigeration systems at a number of our sites have been upgraded to improve efficiency.
New energy-efficient air compressors have been installed.
SOLAR POWER: A 100 kilowatt roof-mounted solar panel system was installed on the roof of the main production building at our Huntingwood site to supply electricity. This generates enough electricity every year to power 26 average homes and saves 140 tonnes of greenhouse gas emissions.
SALES CAR FLEET: Fuel efficiency is a major consideration when selecting the car fleet for our sales team. Transitioning from an SUV vehicle to the current hybrid vehicles reduced the rated emissions per vehicle by 46% at the time of the change.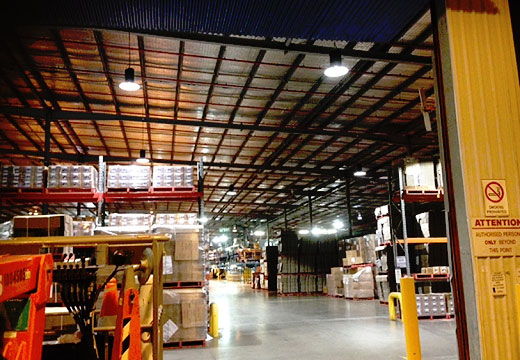 LED lights installed in the Huntingwood site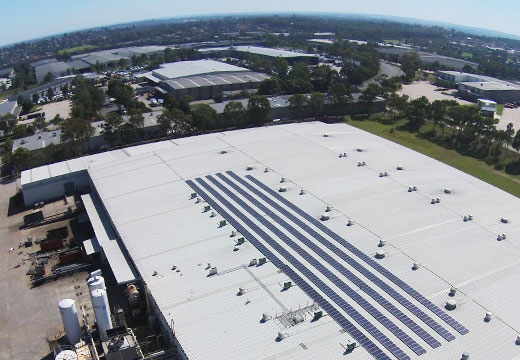 Huntingwood solar panels on main production building
Reducing water use
Pure, clean water is an essential ingredient in our products. We also use water for cleaning, rinsing, heating and cooling. Water efficiency is a key performance measure for our business and we monitor and benchmark this monthly.
Our manufacturing sites operate under formal water-management plans. These plans set out our actions to reduce water consumption. These are regularly reviewed and revised to identify improvement opportunities.
DRY-LUBE: The conveyors used to move bottles and cans around our production facilities need lubrication on the belts. Over the last few years we have progressively installed waterless lubrication systems, which have saved tens of millions of litres each year.
RAINWATER HARVESTING: A large-scale rainwater harvesting system has been installed at the Tullamarine site to supply cooling towers, toilets and gardens. This offsets the use of municipal water and contributes to the company meeting its water-reduction target. Estimated water savings at the site are 7.5 million litres of potable water per year.
WATER EFFICIENCY: Water-efficient appliances such as low-flow taps, trigger sprays, showerheads and urinals have been installed in many parts of the business. We also deliver education programs to our employees and contractors to promote water conservation both at work and at home.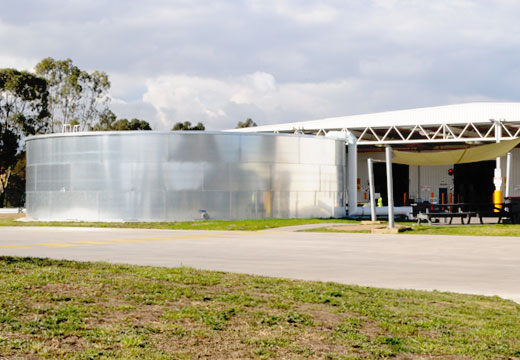 Rainwater collection tank at our Tullamarine site
Reducing waste
The generation of waste is a significant environmental issue. Generating waste represents inefficiency, consumes scarce resources, contributes to greenhouse gas emissions and can impact on biodiversity.
Our business recycles approximately 85% of all waste across its manufacturing, warehouse, technical and office sites. We strive to reduce waste to landfill by setting targets and regularly monitoring performance.
There are waste-management programs in place at all sites, focused on the Reduce > Reuse > Recycle hierarchy. Regular waste audits are undertaken to identify and implement opportunities for improvement. All sites have labelled and colour-coded bins, along with education programs for employees and contractors to promote the correct use of bins.
Packaging
Packaging is an essential part of our marketing strategy, as well as ensuring our products are delivered safely to customers and consumers. We take care to minimise the impact of packaging waste on the environment.
We are a signatory to the Australian Packaging Covenant and complete action plans and annual reports detailing our commitments and progress. Click to access our 2018 Annual Report & Action Plan.
LIGHTWEIGHTING: The business constantly looks for opportunities to reduce the weight of our packaging. Some recent examples of progress in this area are:
Commenced blowfill manufacturing at multiple sites with production of lightweight PET CSD bottles. This has reduced bottle weights by 9.3% for 600mL, 3.4% for 1.25L and 2.7% for 2.0L bottles.
Moved to lightweight bottle closures for water and carbonated products manufactured at the Albury, Tullamarine and Welshpool sites. In most products a 28.3% closure weight reduction was achieved, and in some water products it was a 36.7% reduction.
Shrink-film gauge was reduced for 24 x 600mL water products, resulting in a 16.67% weight reduction.
RECYCLED CONTENT: Our 100% recycled PET (rPET) water bottles have less than half the carbon footprint of a regular PET bottle. We recently conducted a study through an external consultant to assess the carbon footprint of our bottled water. Through data obtained in the study, we found that our 100% rPET bottles have about half the environmental impact of bottles made from new materials. When we look at the lifecycle of the product – from creating the bottle through to manufacturing, refrigerating and selling, and then to recycling the bottle – lightweighting and rPET initiatives have reduced the total carbon footprint of some products by up to 32%.
LITTER REDUCTION: Asahi Beverages fully supports anti-littering initiatives and has been working for many years with industry, government and communities to implement litter reduction under the Do The Right Thing campaigns. We advocate for cost-effective solutions to reduce litter across all categories.
Sustainable sourcing
We are committed to minimising the environmental impacts of the raw materials we source. This involves our own evaluations of impact but also involves working closely with our supplier base.
SPRING WATER: Water is a vital resource for our business, and we use it in many forms – in every one of our products and in our manufacturing processes. Our bottled water products use pristine spring water from carefully selected sources, including company-owned and third-party water sources.
We carefully manage our impact on the environment, ensuring that we:
Conduct thorough and proper assessments of the water sources we propose to use, including understanding the impacts of drawing on ground water, water tablelands, and surrounding land use.
Minimise environmental and community impacts. Our water-source sites operate under quality-management systems with controlled and documented procedures.
Sustainably manage water supply by monitoring water that is extracted at each site and reporting to water regulators. Water sources follow the Australian Bottled Water Institute (ABWI) Model Code.
Use water sources for which we are licensed to take specified volumes and are compliant with license conditions.